Very Jane
I was introduced to this website via the blog world about 3 months ago and I've been hooked ever since.

It's kinda like Groupon or Living Social…but, the difference is
, Very Jane emails you BOUTIQUE deals.

Yes, you read that right…boutique.

Here's the best part -- the stuff is usually like 50% off the price it is on the seller's website/Etsy shop.

That's half off, my friends.

Can I get an Amen?!
Here's what I've bought so far…
Adorned Bib and Droplet Statement Necklace
Purchased Necklace #3
Total: $22.98
Deal is expired.
Wore my first Very Jane purchase last weekend : )
Purchases I haven't received yet:
J. Crew Droplet Statement Necklace and Earrings
Purchased the green necklace shown above (i actually got the last green one!).
Total: $22.98
Nautical Gold Chain Suede Bracelet
Purchased in mint.
Total: $9.99
I know, I know…all accessories. I've admitted it before and I'll admit it again – I have an unhealthy obsession with accessories…especially cheap fashion jewelry.

If you're not as obsessed with jewelry as I am, you should still check out Very Jane. They also offer other stuff like these cell phone covers (which I'm definitely considering as my next purchase) for $20 (retail $38).
And these adorable chevron picture frames for just $19 (retail $30).
And for you mamas…these oh-so-cute baby girl boots. Precious! And they're only $16.99!
Amazing stuff, huh?!

I highly recommend you check
THIS
site out. You won't regret it.

Fair Warning:
Go ahead and prepare yourself to spend some money because a lot of the offers are too good to pass up! Once you sign up, you'll receive daily deal notifications via email with pictures and everything. If you see something that sparks your interest, just follow the link and it'll bring you to the site where more deals are listed…and before you know it, you'll spend $50. But, no worries, because it'll be $50 well spent, my friends.

Go check it it out. You won't be disappointed. Guarantee it.

By the way, this is not a paid advertisement for Very Jane..it's just what I'm loving lately!

Linking up with Glossy Blonde: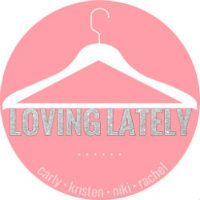 What are YOU loving lately?